Okay, I love work. I was super excited to go back to work. And one of the biggest reasons (besides the love of my job and all, besides the kids) is that I get to be in a room that is air conditioned. Which is great, because our AC hasn't worked since early July! Well today, I was working and the ac broke at work and it is hot out! So, I worked all day in a non-ac place. And then came home to a non-ac'd house...and well now, I am so incredibly hot and sticky and feel yucky and crabby. *sighs*
On the plus side, American girl came out with new items today. Now, I know that I am fairly easy to buy for-but in case if anyone is ever stuck, and it is the holidays, or my birthday or just because I am crabby and need a cheering up gift.
Go here: http://store.americangirl.com/gift_registry/guest_search_page.php
Type in my name or this number: 14795021
And select something for me :) It is really, really quite easy. Sentimentally, I love the dolls; because then I remember who actually GAVE it to me...but I accept all sorts of gifts. And if you can't decide you can go here:
http://store.americangirl.com/agshop/html/GiftCertificatePage.jsf/itemId/16690/itemType/FG/webTemplateId/15/uniqueId/344/saleGroupId/367?mktPiece
And get me a handy, dandy gift certificate. And you can all do it in a hot pop tart second online too. :o)
So what are you waiting for...
Pssst....it would be nice to get a cheering up gift today due to the heat. *smiles*
Maybe some nice winter clothes, so I can look forward to the winter-the snowboarding set is ADORABLE. Or a nice baking set...because you know that I love to bake, and thus my dolls love to bake.
Here is a picture of my dolls baking from a year ago-unfortunately, they did not have the handy dandy baking set-which would have made their baking far superior then that day.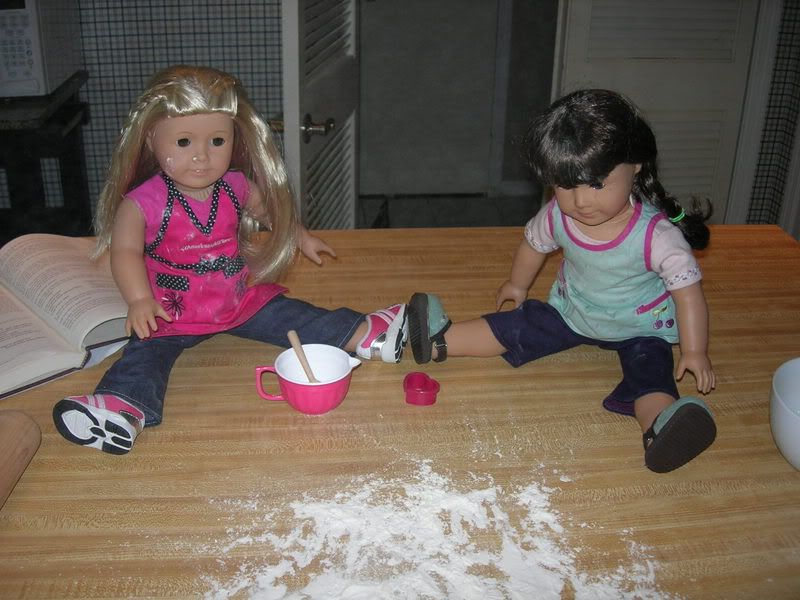 So you see...I need the new baking set :)
And the boots. They are pink...too boot!.
Pssst...and you know the gold care bear is always nice too.
-Jordyn